Create Attention-Grabbing
Thumbnails In 3 Clicks With The World's Only A.I. Thumbnail Creation APP
for YouTube, Facebook, Instagram, Vimeo or any video platform out there!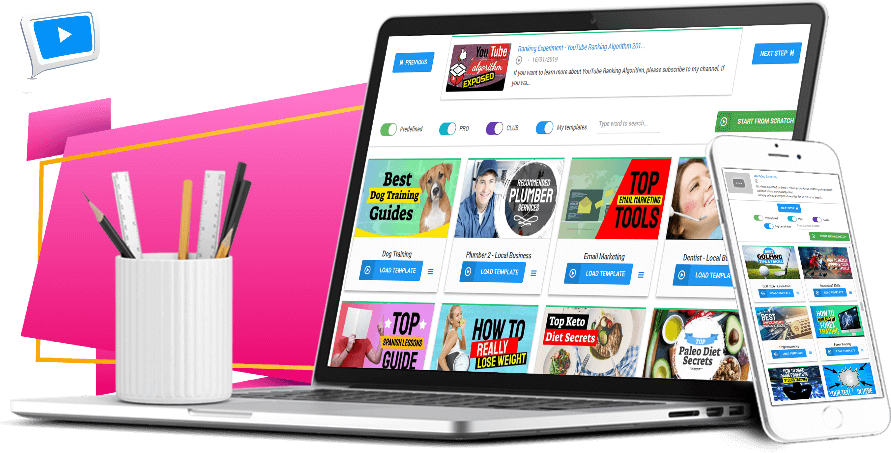 Thumbnail Blaster
Say goodbye to expensive designers and unreliable freelancers!
Easy To Use
Get High-Class, Professional Thumbnails In Just 3 Clicks

Drag-And-Drop
Customize Thumbnails With Our Drag-And-Drop Editor

A/B Test Thumbnails
Split test two different thumbnails and find the best performer.

A.I. Customization
The ONLY Fully-Automated Thumbnail Maker For Marketers And YouTubers 
Multi-Platform
Works with YouTube, Facebook, Vimeo or any video platform out there.
30 Templates
Get access to over 30 Thumbnail Templates that you can edit and modify
Create A PRO Thumbnail In 60 Seconds Or Less
No need to pull your hair out trying to learn Photoshop or other complicated designing tools…
No need to spend hundreds of dollars on design elements and stock photos!
With Thumbnail Blaster, everything you need is under one roof!
And it's so easy to use that even a KID can create Attention-Grabbing Thumbnails with Thumbnail Blaster!
(or let the AI choose a template for you)
Thumbnail Blaster comes with over 30 thumbnail templates across multiple niches: weight loss, local business, gaming, travel, vlogs, pets, reviews,music, seo, sports, real estate, makeup…
You name it… We've got you covered!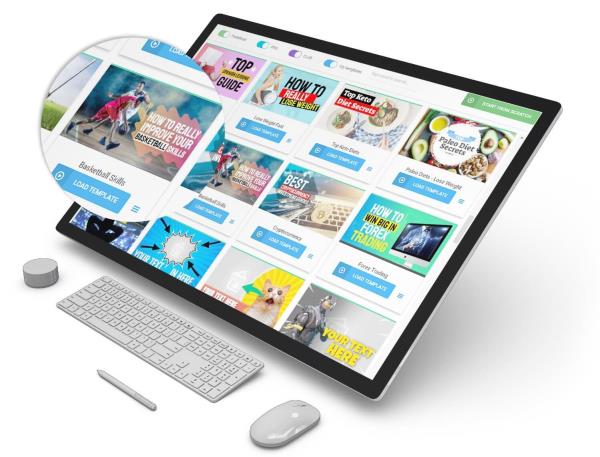 (or let the A.I. customize the template for you)
There's nothing to install and you don't need any technical skill…
Each template can easy be customized to fit your needs.
You can Drag and drop anything, Resize, Change Text and Fonts.
Add new elements…
Just drag… and drop. You are in total control!
Everything is very easy with our Point and CLICK interface. 
Create your thumbnails for any style of video – 16:9, 4:5, 4:4 or any size that you want.
Uploading your new JAW DROPPING and attention grabbing thumbnail… it is as easy as clicking one button…
Click on "PUBLISH" and Thumbnail Blaster will update your existing video with the new AI created thumbnail that will get you more views, more visitors and more exposure!
Or you can just download the thumbnail as .jpg and use it however and wherever you want.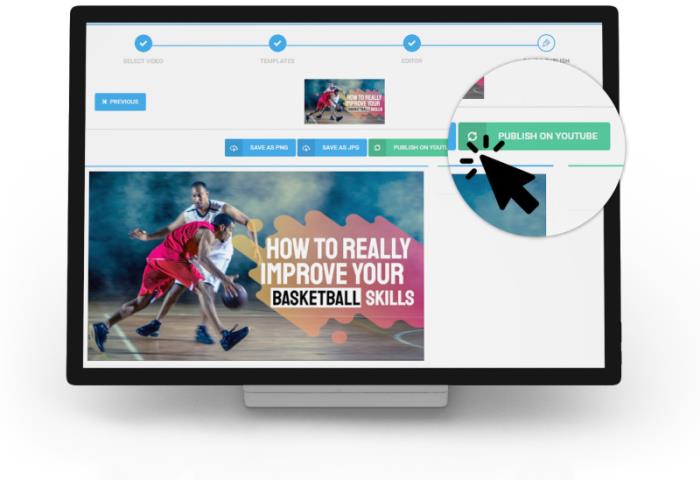 Our Latest Thumbnails Templates
All our templates are tested to deliver skyhigh CTR!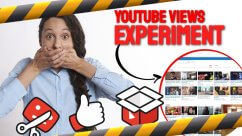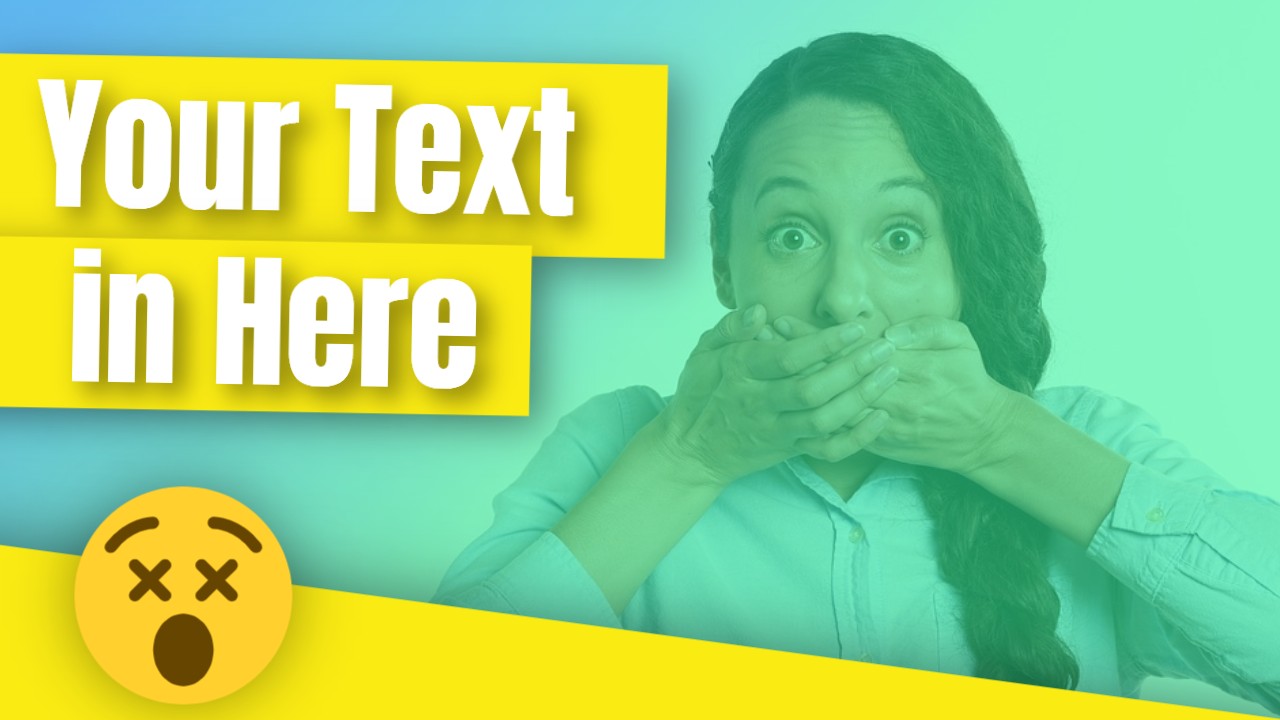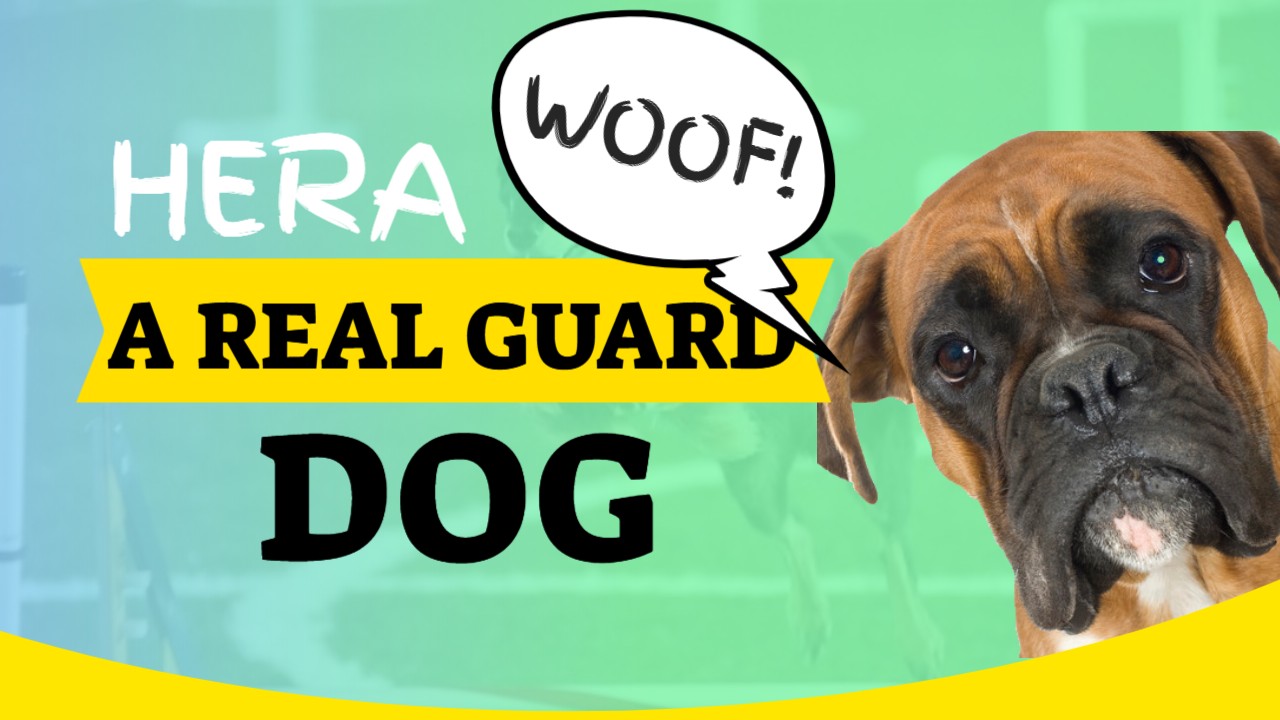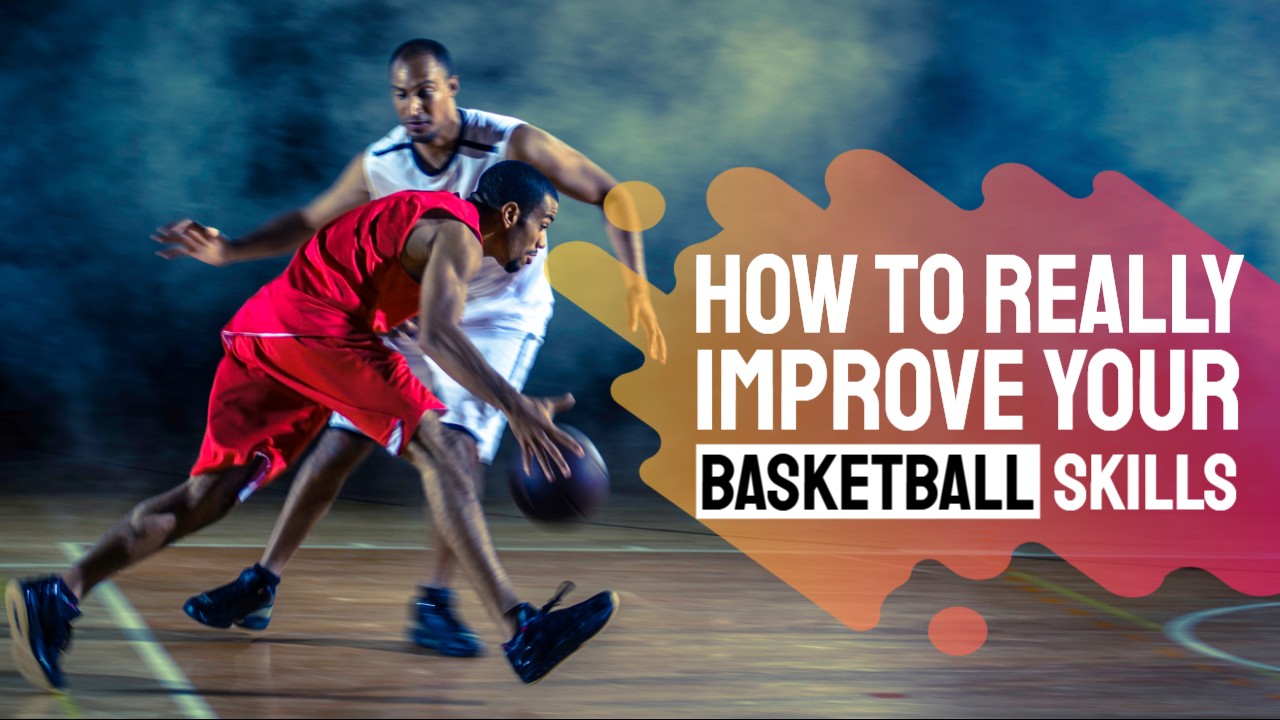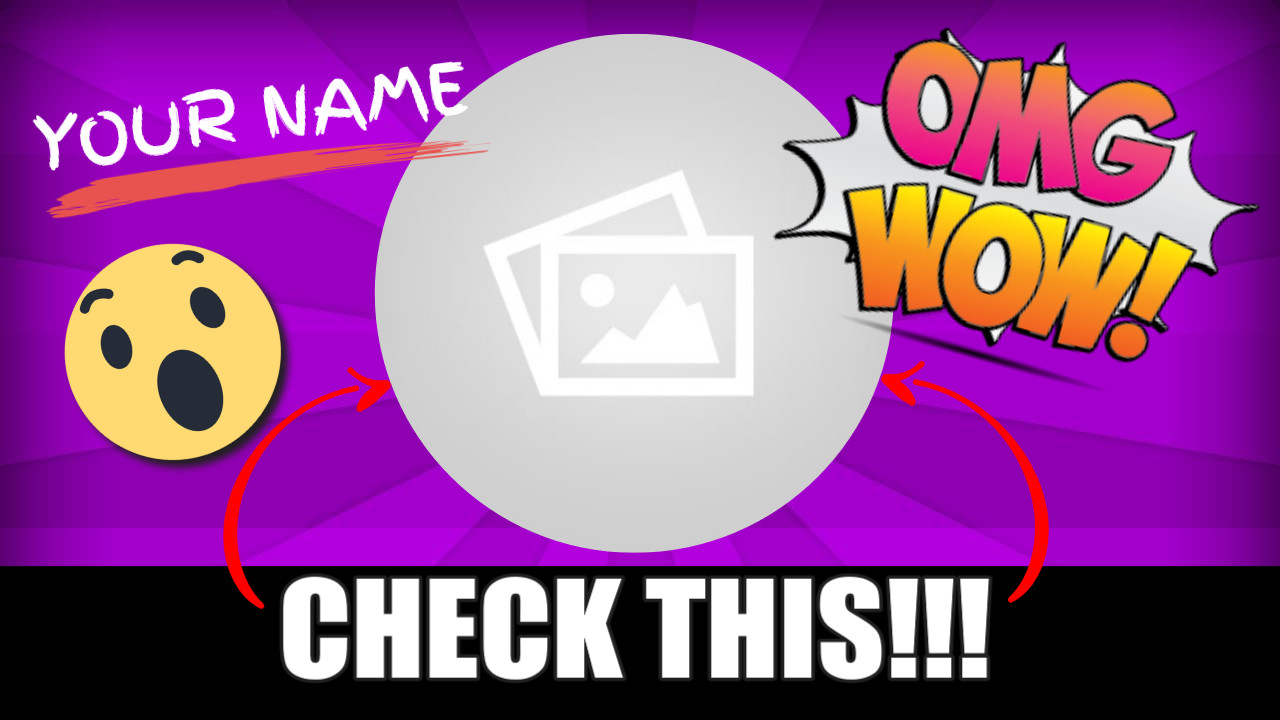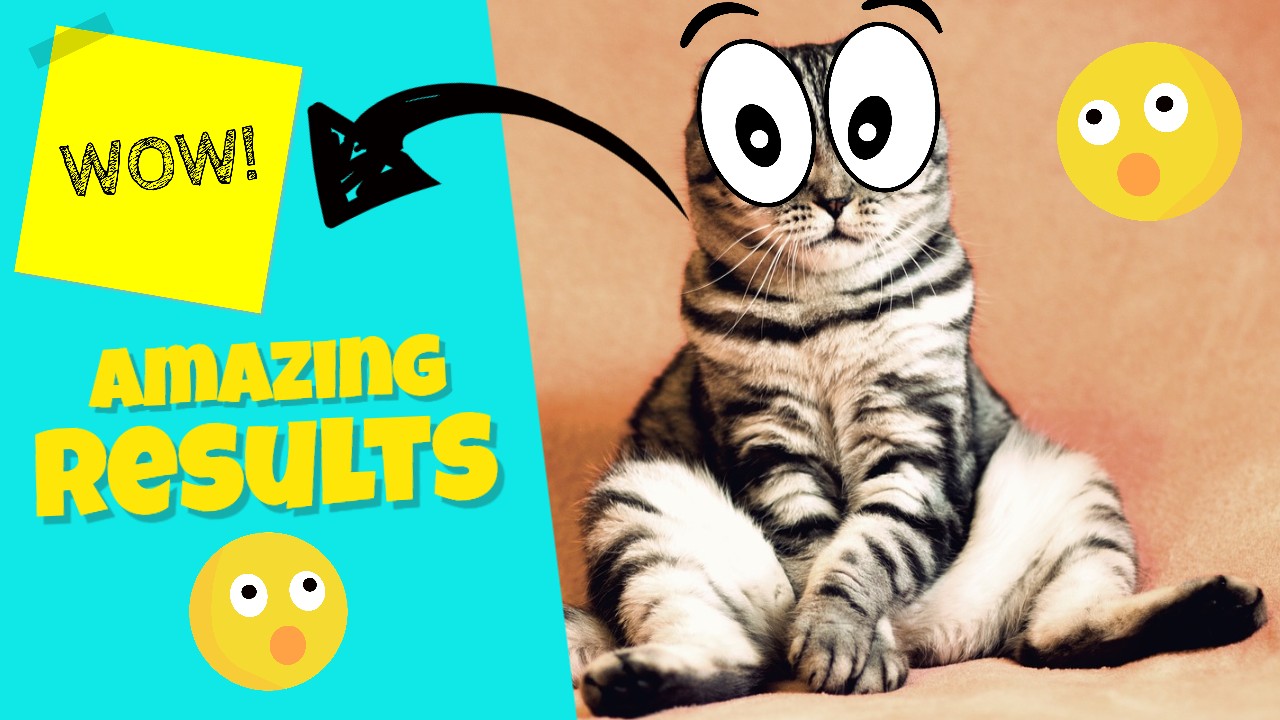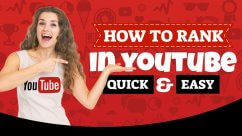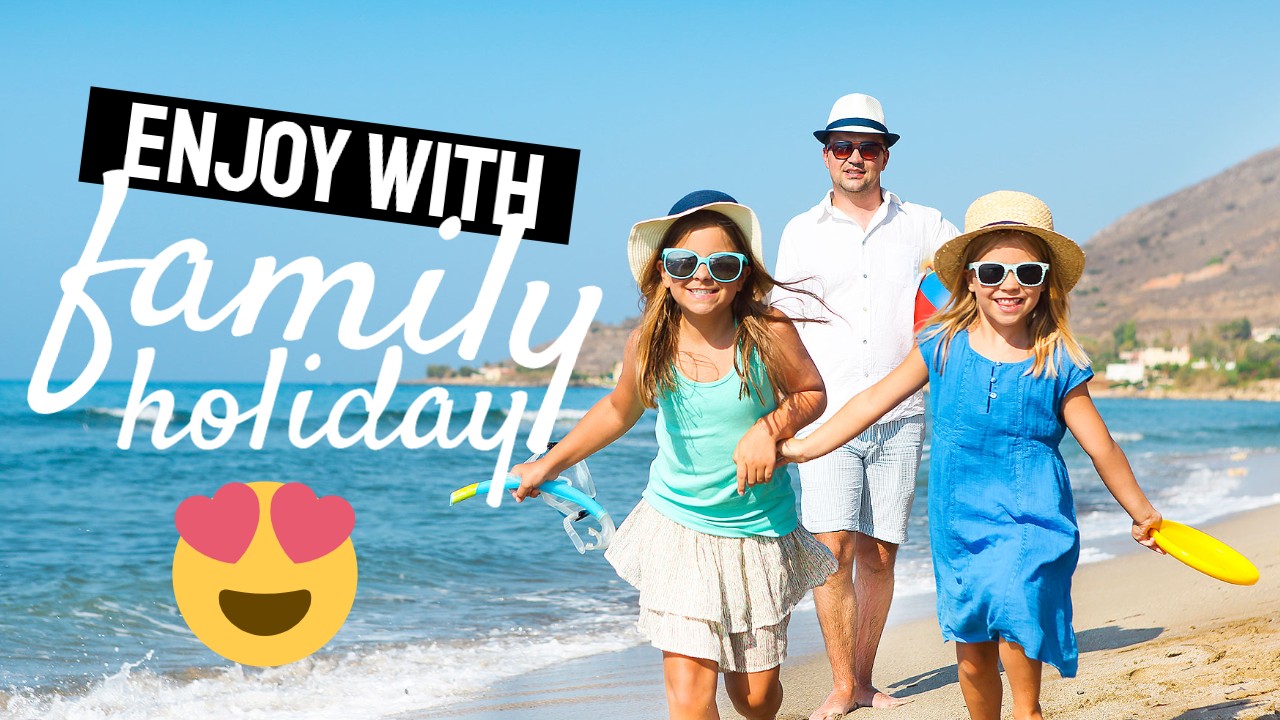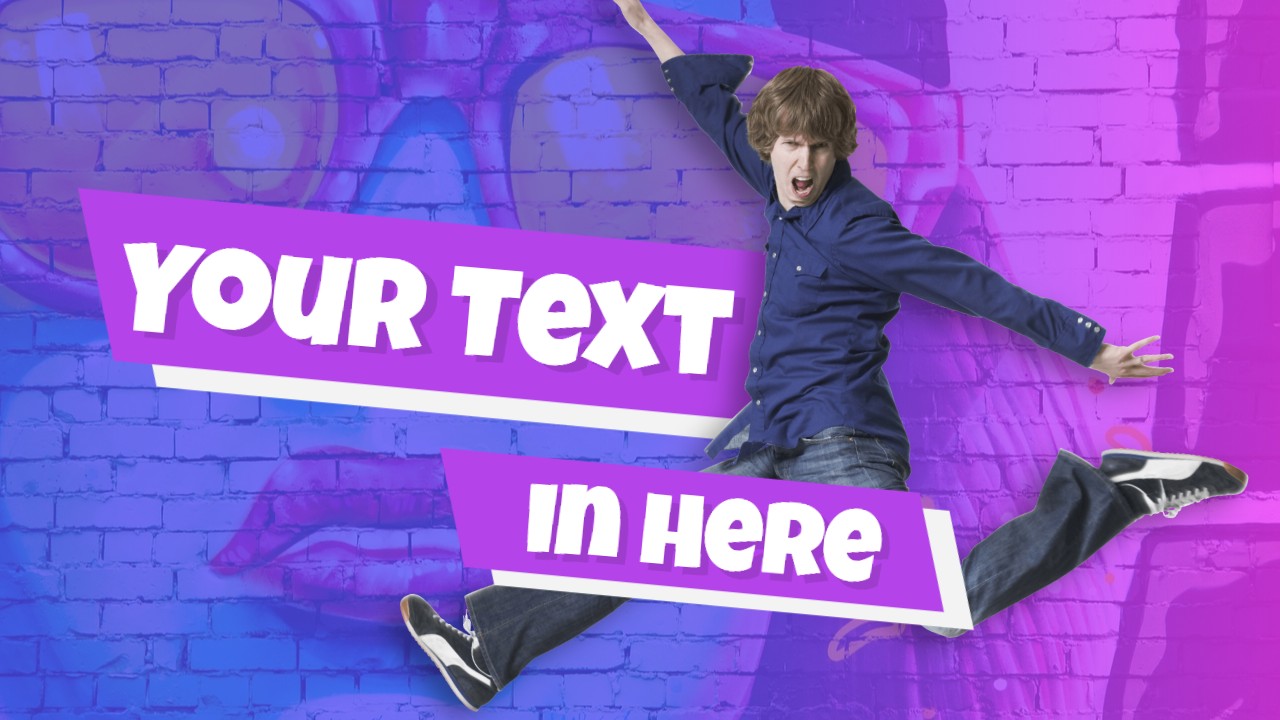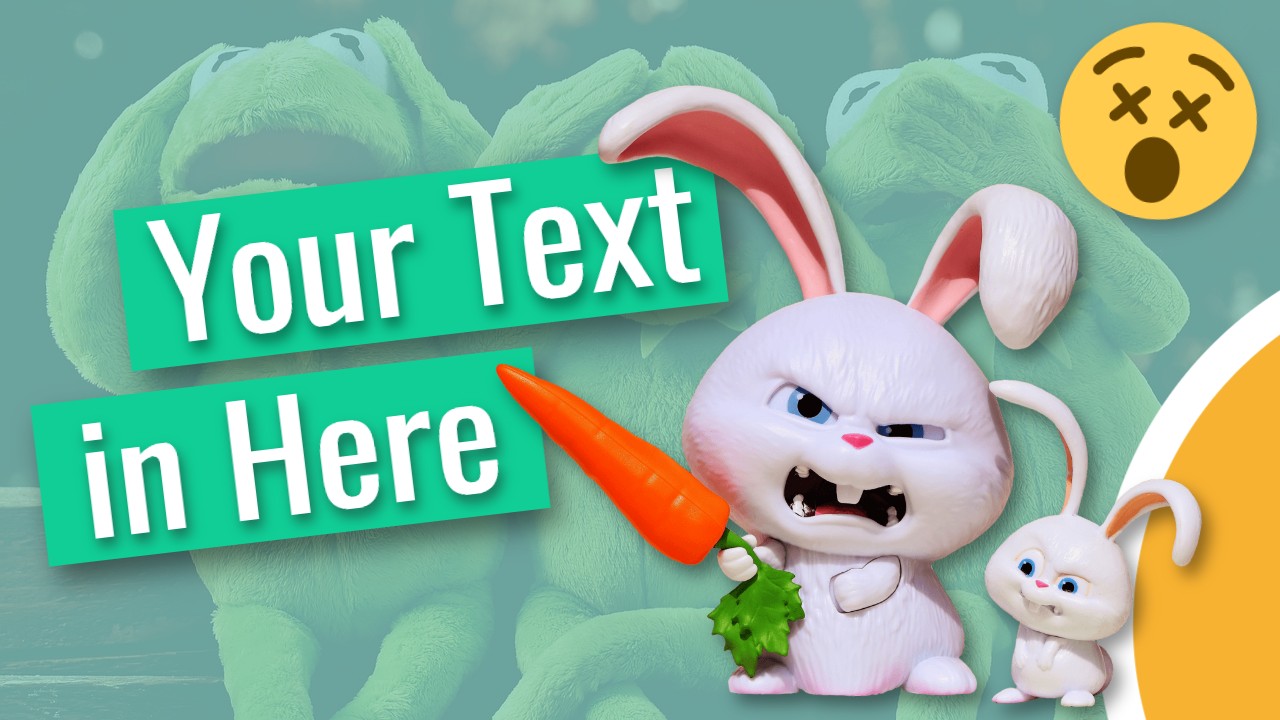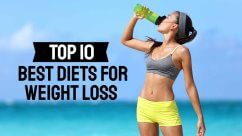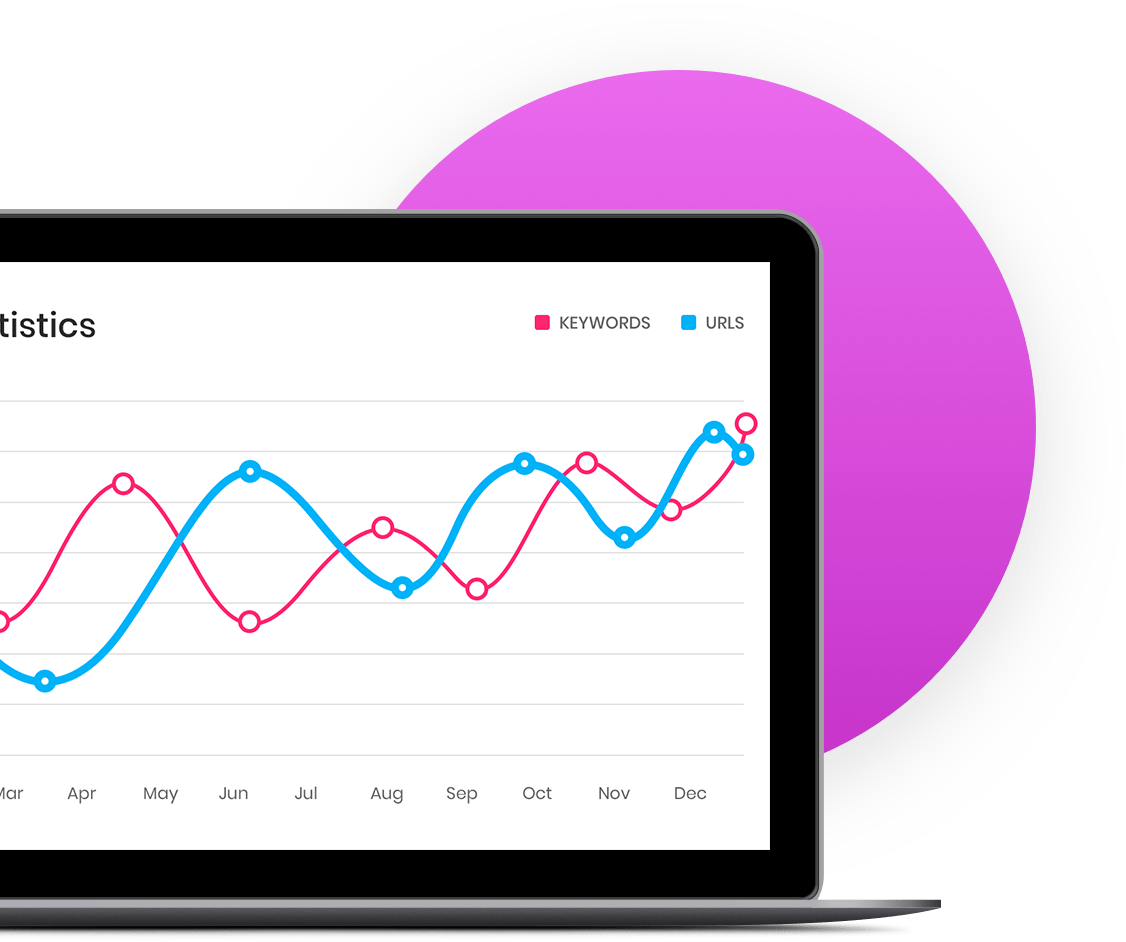 A/B Test Thumbnails
Thumbnail Blaster is taking things to the next level…
NEVER DONE BEFORE!
Something that will make creating thumbnails with Photoshop,
Canva or… you name it… OBSOLETE!
How would you like to be able to SPLIT-TEST two different thumbnails and find out the best performing one… Without having to upload multiple videos…
Time to get your videos NOTICED!
All the DESIGNERS that you will work with, will create your thumbnails based on their GUTS!
You can't grow a channel… based on GUTS!
We call that HOPE marketing:
Creating a thumbnail and HOPE it will work…
We like to know in advance what works… what doesn't…
and how we can INCREASE our views, subscribers, and traffic with 100% certainty!
Thumbnail Blaster comes with over 30 PROVEN TO CONVERT and EYE catching templates and gives you the ability to split test various thumbnails and find your WINNING Thumbnail!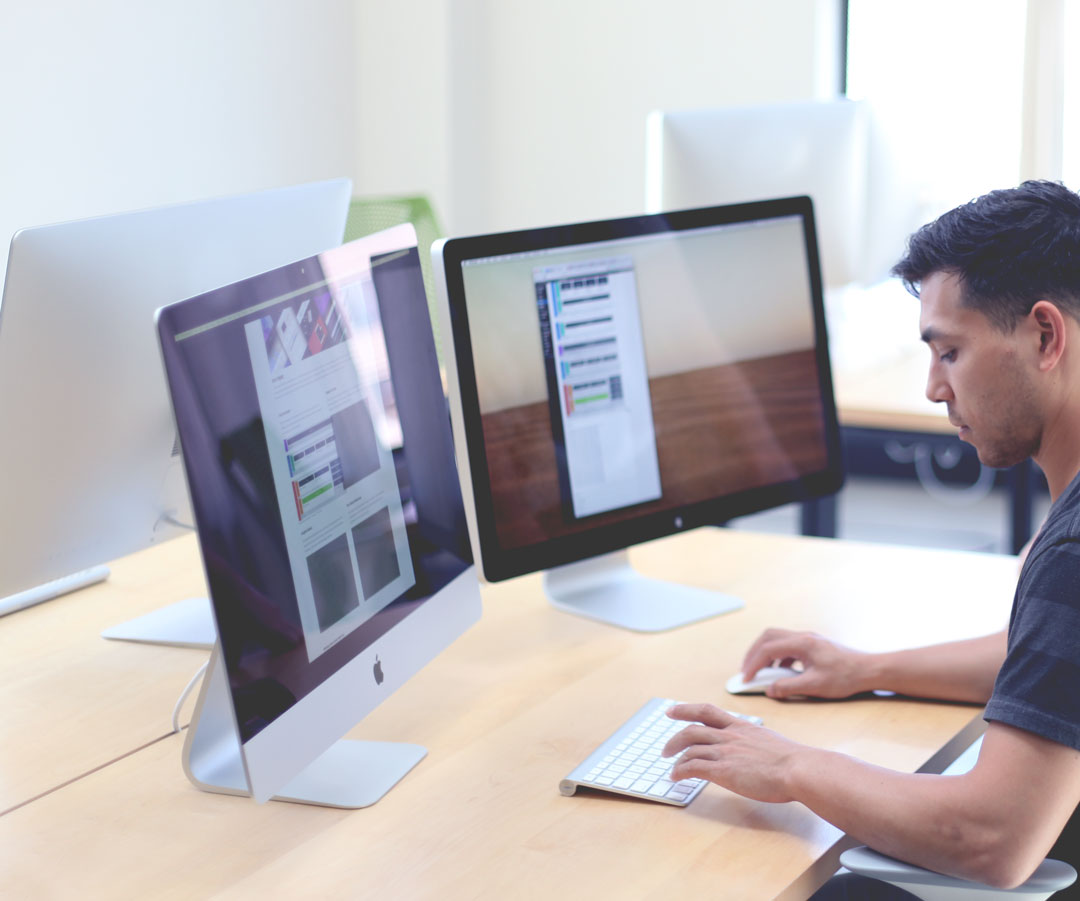 The Fastest & Easiest App
For JAW-DROPPING Thumbnails!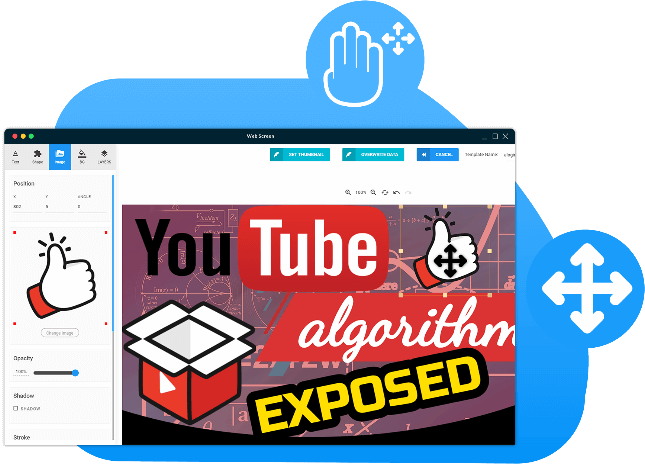 Simply click to drag and drop elements.
No special knowledge need! Nothing complicated!
Customize everything without any design skills needed!
Change fonts, styles, colors, layouts and
entire color themes with the push of a button!
Make your thumbnail 100% UNIQUE
and a clear represenation of your brand!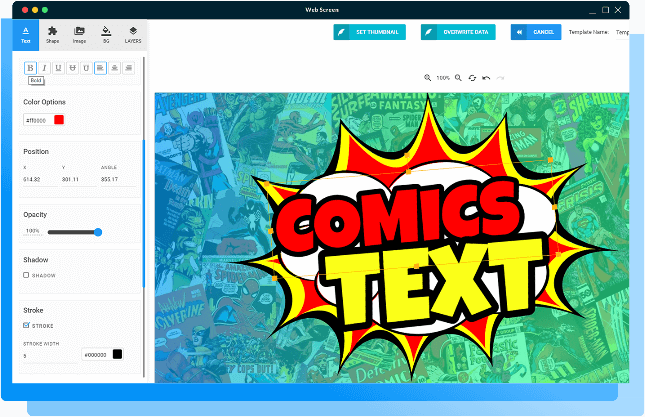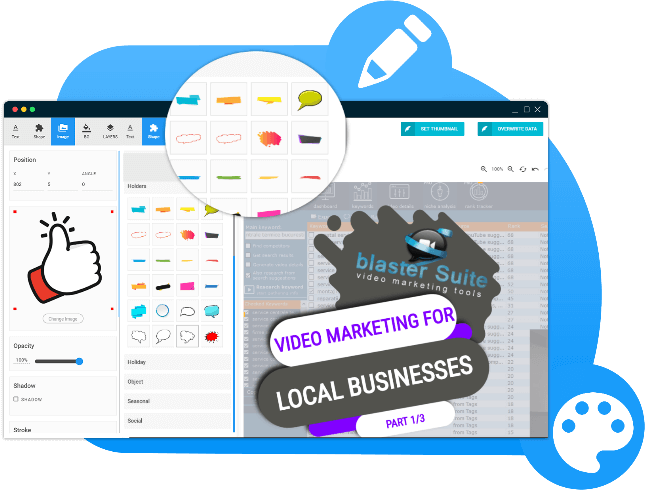 The most important thing that makes a thumbnail
really stand out are the design elements such as:
doodles, emojis, arrows, shapes.
Thumbnail Blaster comes with an extensive library of design
elements!
How would you like to be able
to SPLIT-TEST two different thumbnails
and find out the best performing one…
or you can just download the thumbnail and use it
on whatever platform you want.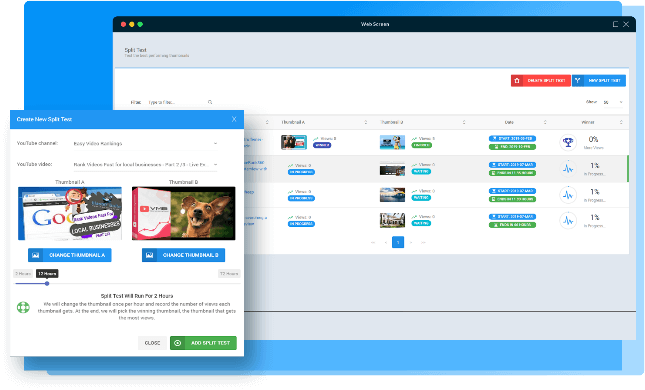 Let's Work Together!
We are 100% sure that Thumbnail Blaster is exactly what you need to finally get your videos noticed, so we will give you a 60-day no-questions-asked money-back guarantee!
In other words, you can test drive Thumbnail Blaster for 60 days and if for any reason you are not satisfied we will issue a FULL refund!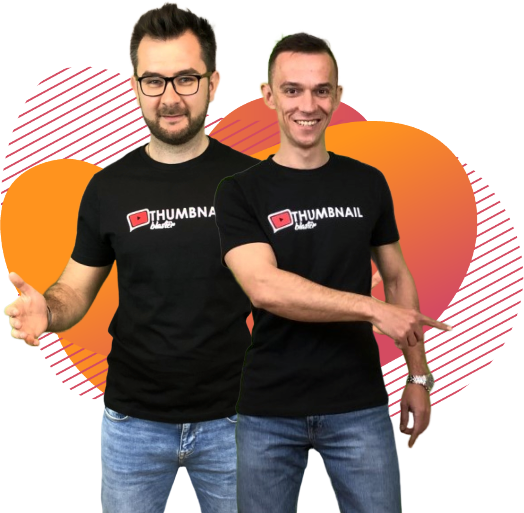 Here at Thumbnail Blaster we constantly innovate and improve our templates and software, so you can always be one step in front of your competition!
Our #1 goal is to keep the attention of your viewers on YOUR VIDEOS and away from your competition videos…
Vlad & Stoica
Answers to Your Questions
Is this a Cloud-Based software?
Yes, Thumbnail Blaster is a cloud-based solution.
Everything is hosted on our servers, nothing to download or install.
You can use Thumbnail Blaster from your desktop PC, Apple or even from your smartphone.
Does this work only with YouTube videos?
We've been talking about youtube a lot, but that does not mean Thumbnail Blaster works only with YouTube videos
You can download the thumbnails in JPG or PNG format, in ANY size that you want and save them on your PC.
After that, you can use them in Vimeo, Facebook Ads, Facebook News Feed or ANY other place that you want.
Do I get free updates for Thumbnail Blaster?
YES! You get 100% free auto updates.
Whenever a new update is out, since everything is stored in the cloud, you will instantly be upgraded.
You don't need to worry about checking manually for updates,everything is done 100% automatically, hassle free.
Does it work in any language?
Yes! Thumbnail Blaster works in any language and for any niche.

This site is not a part of the Facebook website or Facebook Inc. Additionally, This site is NOT endorsed by Facebook in any way. FACEBOOK is a trademark of FACEBOOK, Inc.